SunSmart Victoria
────

Research, identity and campaign, 2021
Supervised by
Kasia Ilczyszyn
Skin cancer is the most common form of cancer diagnosed in young Australians aged 15-29 years - and it can be prevented almost entirely with adequate sun protection.


The first phase of this project involved researching and auditing the organisation, and the formulation of a project proposal, detailing areas for opportunity and improvement, and the scope of the project.
A refreshed brand identity was developed for SunSmart, honouring the renowned heritage of the brand by reimagining existing elements, such as the wordmark and 'Slip Slop Slap' slogan, for a modern audience. Additional graphic devices and colours have been developed to create a more engaging and dynamic identity suitable for all demographics, visually connoting the Australian summer and environments in which sun protection is most critical. Given the range of audiences Sunsmart engage with, the guidelines detail a variety of applications to ensure clarity and visual consistency across all brand communications.



Building upon SunSmart Victoria's brand guidelines, this poster campaign reimagines SunSmart's renowned 'Slip Slop Slap Seek Slide' slogan for a younger audience, adopting a vibrant, playful and modern visual language. Grainy photography lends the campaign imagery a retro quality reminiscent of SunSmart's nostalgic heritage, and is tonally similar to the advertising material of brands young people resonate with, as identified in the research phase of this project. The posters are intended to be wheat-pasted in areas where people spend time outside and when sun protection is most critical - such as parks and beaches, and fundamentally serve as a reminder to practice sun safety.







Insights derived from anecdotal research in the project proposal phase of the project suggested that while many young adults seem to be aware of the dangers of skin cancer, this is often not enough to warrant a change in behaviour. So, rather than solely communicating the potential dangers of the sun, creating a range of items (including hats, sunscreen and towels) that promote sun safe behaviour yet also appeal to the lifestyle and preferences of the target demographic is likely to increase the relevance of SunSmart's messaging to this group - ultimately repositioning sun safety as less of a 'chore', and more something they actually want to practise. The merchandise range features objects designed to be used in the sun, each featuring a subtle reminder to 'Slip Slop Slap'.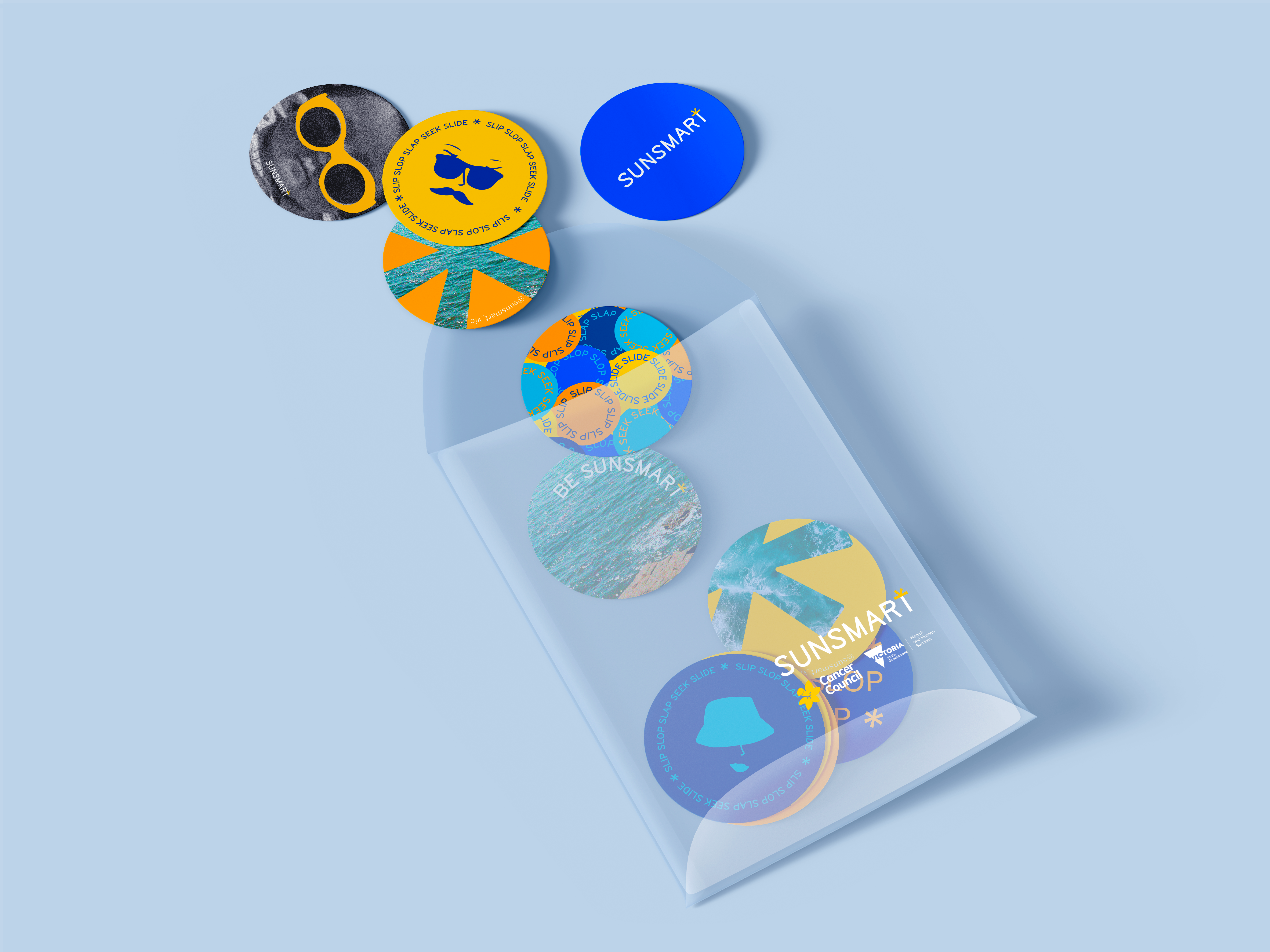 These stickers are designed to be distributed with the purchase of SunSmart's merchandise. SunSmart Victoria's research elucidates the harmful nature of repeated sun exposure and how it "all adds up." So, these small stickers intended to be stuck on random objects - such as a drink bottle or phone case - seek to serve as a small and subtle yet regular daily reminder to
be sun safe.




In terms of the distribution of this merchandise,
a component of this campaign may involve physical brand activations. SunSmart may set up tents in outdoor areas where people often aren't practicing sun safety, over peak summer periods. This may involve providing shade or sunscreen, giving away items such as bucket hats or stickers, and selling or hiring larger cost items (such as shade umbrellas or rash vests). Further, this provides an opportunity to raise awareness amongst the community with a physical presence and for SunSmart representatives to share resources and advice.

Further, the merchandise will be sold on the SunSmart website, and via parent organisation The Cancer Council's existing e-commerce store. Online, a broad range of SunSmart merchandise can be featured - including items which are not necessarily sun protective by nature but are typically used in the sun, featuring reminders and reinforcement to practice sun safety.



As previously mentioned, the new campaign centres around SunSmart's 'Slip Slop Slap' slogan, which was recently expanded to include 'Seek' and 'Slide', that is, Slip on a shirt, Slop on the 50+ sunscreen, Slap on a hat, Seek shade or shelter, and Slide on some sunglasses. This brochure, intended to be distributed with the merchandise component of this campaign (to follow) explains the meaning of the slogan in detail, and provides tips and advice on being sun safe - including how to perform a skin check, something many are unfamiliar with. Reinforcing young people's understanding of the 'Slip Slop Slap Seek Slide' slogan's meaning ensures that when they see it, or symbols or colours associated with it, they are reminded of the importance of sun safety without SunSmart needing to explicitly communicate this every time.




The final component of this integrated campaign was the creation of a social series. While many people check the weather forecast daily, most are not paying attention to the UV index. Inspired by the @raincheck_melbourne Instagram account, these tiles form a series for Sunsmart Victoria's social channels, seeking to provide followers with consistent and useful weather-related updates with a special focus on sun safety. Intended to be posted each morning over the December - January period (when the Australian sun is typically at its harshest), the series aims to raise awareness and to gently remind young people to practise sun safety on a platform they use most.